---
Medicinal herbs and plants are must-haves for any prepper, especially when SHTF. If you want to have access to herbal plants throughout the year, start a medicinal garden on your homestead. (h/t to DoomAndBloom.net)
Why start a medicinal garden?
Even with a full stockpile, your supplies will eventually run out during a long-term survival scenario. If you have a medicinal garden, you'll have access to natural alternatives to conventional medicines. Having different types of medicine on hand is essential for survival in a post-SHTF world.
Like other prepping skills, gardening has a steep learning curve, so don't wait until things go south before starting your medicinal garden. While things are calm, purchase necessary gardening supplies, such as items to amend the soil in less fertile locations.
Sunlight and soil health
If you don't already have a home garden, choose a well-drained, sunny area with healthy soil. Some herbs will thrive in shade, but a lot of plants need at least six to eight hours of full sunlight to grow healthy and strong. It's best to grow certain medicinal plants in pots so you can easily bring them indoors during winter.
Plants should be watered regularly so your garden soil stays moist, but don't let it get muddy or waterlogged. If you need well-draining soil, mix potting soil with some bark (such as fir or pine) and coconut coir. Coconut coir is the material between the outer shell of a coconut and the inner shell which contains the coconut "water" and "meat." Add compost to enrich the soil.
Drill or punch lots of holes all over the sides and bottom of the pots. Finally, fill the pots with soil to about five inches from the top. If you have red worms, add some to the soil and feed the worms compost materials by adding vegetable peels or leftover uncooked vegetables.
Dig a little hole along the edges of the pot for your plant then put the compost materials in and cover it with soil. The worms will eat the vegetables and poop "worm castings," an organic form of plant fertilizer.
Worm castings can help improve garden soil because they contain a mixture of bacteria, enzymes, remnants of plant matter and other substances. This organic matter is full of plant nutrients that are good for your crops.
Tips for natural pest and disease control
To keep your crops chemical-free, use only organic pest and disease control solutions.
Here's a simple recipe for a non-toxic pest control solution.
You will need:
4-8 Cups of water
1 Tablespoon of neem oil
1 Teaspoon of Dr. Bronner's lavender pure-Castile liquid soap
1 Teaspoon of Dr. Bronner's peppermint pure-Castile liquid soap
Tea tree essential oil
Steps:
Combine all the ingredients and stir well.
Store the mixture in a spray bottle.
Use this natural disease and pest control spray on foliage in the late afternoon every five to seven days or after a heavy rain. If you are treating plants already infested with pests or disease, use the spray more frequently.
Tips for growing seeds
Different plant seeds are placed at different depths of the soil. In most cases, it's better to plant too shallow than too deep. Some plants, like certain lettuces, aren't buried at all.
If you're not sure what to do, plant seeds at a depth equivalent to two to three times their width. Place a layer of mulch to help maintain even moisture levels in dry conditions. Always check the seed packet for specific instructions since plants have different requirements.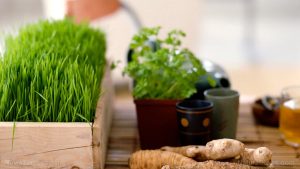 Herbs and plants to grow in your medicinal garden
Choose medicinal plants that grow best in your climate. Depending on your area, you can grow herbs that can survive in winter or plants that can withstand the summer heat. If you're not sure what to plant, check "Plant Hardiness" maps for cold weather and "Heat Zone" maps. (Related: Medicinal plants: 15 Must-have herbs in your survival garden.)
You can grow warmer climate plants by protecting them from the cold. Build a greenhouse for your plants or use row covers.
Below are some medicinal plants and herbs that you can grow in your garden and their uses:
Echinacea
Echinacea is used to treat the common cold, flu and respiratory illness. The plant is usually brewed to create a tea that helps prevent sickness and strengthens the immune system.
Garlic
Garlic is easy to grow and doesn't take up much space in your garden. Fresh or dried garlic can be used to help treat or prevent cold sores, gum disease, respiratory illness and yeast infections.
Ginger
Ginger is a medicinal root that has antibacterial, antiviral and antioxidant properties. It is often used to treat headaches and migraines, joint pain and menstrual discomfort.
Ironweed
Ironweed grows best in areas that get full sunlight. Medicinal tea brewed from ironweed roots can be used to treat fever, hemorrhage, loose teeth, post-childbirth bleeding, stomach ulcers and monthly menstrual bleeding.
Jewelweed
Jewelweed is a wild plant that you can cultivate in a domestic garden. It's a natural salve base ingredient, but you can also use it on its own because it has antimicrobial and antifungal properties.
Jewelweed leaves can be picked from the plant throughout the year. Either crush the leaves in your hand or chew them lightly before rubbing them on the affected area to activate compounds that can help soothe the pain caused by any of the issues listed below:
Athlete's foot
Bruises
Joint pain
Minor burns
Poison ivy
Poison sumac
Jewelweed can also be used to stem the flow of blood after childbirth.
Turmeric
Turmeric contains curcumin, a very powerful antioxidant. Curcumin is harvested from the dried root cutting of turmeric. This herb is used to treat the stiffness caused by arthritis, joint pain and swelling, and inflamed tendons and muscles.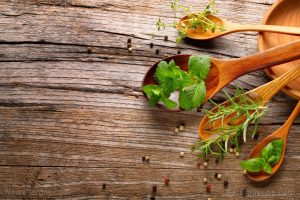 Tips for harvesting medicinal herbs and plants
Once you've grown various plants in your medicinal garden, you can harvest them for your medicine cabinet. It's best to get mature herbs in dry weather after the dew has evaporated.
Different parts of a plant may require specific times of the year or other conditions for collection:
Berries, fruits and seeds – Harvest berries, fruits and seeds once ripe but before they drop.
Flowers – Harvest flowers just as they start to bloom.
Leaves – It's best to collect leaves soon after they open in spring and summer.
Bark – Harvest bark in the spring or fall in small amounts.
Roots – Roots should be harvested in the fall.
Don't overharvest your plants. Take just the amount of plant material you need for processing or storage. Otherwise, medicinal herbs and plants will deteriorate rapidly and their medicinal benefits might degrade.
Preserve herbs by air- or oven-drying. Store dried herbs in sterile dark glass jars with airtight lids.
Some dried herbs can last up to 12 months when stored in a cool, dry and dark area. You can also preserve herbs in jars by vacuum sealing.
Start cultivating a medicinal garden before SHTF so you have access to different herbal plants.
Visit PlantMedicine.news to read more articles with tips on how to grow medicinal plants.
Sources include: