---
As a prepper, you most likely work hard to maintain their home gardens because this is where you grow organic produce for your family and your survival stockpile. But what do you when weeds start destroying all your hard work?
You can keep weeds out of your garden without chemical-laden weed killers (herbicides) by using more eco-friendly options like ground-cover plants or the no-dig method. (h/t to NewLifeOnAHomestead.com)
Before you start your weed-killing journey, first identify the type of weeds threatening your garden crops. Are the weeds annuals, which only live for one season and die after they set seed? Or are they perennials that return yearly?
These methods will make the growing conditions of weeds unfavorable, which is one way to control weeds without using chemicals.
Weed less frequently, but monitor your garden regularly
Weed your garden weekly with a hoe or a trowel to effectively control most weeds. Cut or remove weeds while they're still small seedlings to prevent them from establishing themselves. Once weeds are established, they'll have strong root systems and you'll have a harder time keeping weeds out of your garden.
If you spot weeds, push a sharp hoe, like a Dutch hoe, just under the soil surface when the weather is dry. Don't hoe any deeper because this can spread pieces of cut perennial weed roots through the soil, allowing them to re-grow and spread.
Weed carefully in small areas or in areas closer to delicate plants. Dig these weeds out carefully with a small hand-held trowel so you don't damage surrounding plants.
Boiling water
Carefully pour a kettle of boiling water directly over weeds growing on your driveway or in cracks in cemented areas. Boiling water makes weeds shrivel. Since the water cools as it runs off, it won't harm surrounding plants. (Related: 4 Easy ways to control weeds without using toxic chemical herbicides.)
Borax
Borax is a readily available laundry cleaning product that comes in powdered form. Mix 10 ounces of borax with two and a half gallons of water to make borax spray.
After the borax dissolves, use the mixture to spray the leaves of weeds. Aim carefully because the mixture can also harm your crops.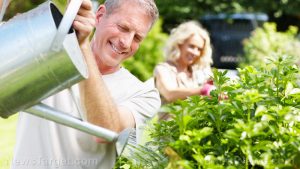 Control your usage of fertilizer and water
Weeds also thrive when given fertilizer, which means you need to make sure you only give them to your crops, not to weeds that can grow wild in your garden. Like established shrubs and trees, some plants don't need a lot of water or nutrients because of their well-established root systems that seek out moisture and feed from the ground.
Unlike perennials, annual plants require more feed and water. The same is true for vegetables.
Corn gluten meal
Corn gluten meal is a by-product of the grain milling process and it can help prevent weeds from germinating. You can purchase corn gluten mean at a garden store or online.
Corn gluten meal is harmless to animals and you can also use an organic option.
Dishwashing liquid and vodka
Make DIY weed killer by combining one ounce of vodka, two cups of water and several drops of dishwashing liquid.
This method doesn't work well in shady areas, but if you spray the mixture in sunny areas the vodka mixture will dry out the weeds until they die. Aim well because the mixture will also make your crops dry out.
Edging material
Barriers like the retaining walls of raised beds or lawn edging materials are long-lasting solutions for keeping out weeds.
Decking boards are another good option because they're treated against rot. Alternatively, you can hammer scrap lengths of decking timber into the ground next to each other to create a barrier edging.
Geese
If you keep geese, you can use them to keep weeds in check. Allow a couple of geese inside your garden and let them feast on weeds.
You'll only need two geese to weed an acre of land. But consider another option if you grow corn since geese might eat your crops instead.
Goats
Goats are suitable for large areas with unwanted vegetation. Goat hooves can also help scarify or aerate the soil as they graze. But like geese, goats might also target your crops if you leave them unattended.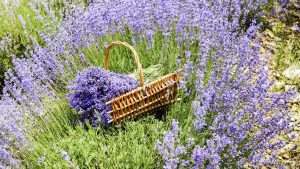 Ground cover plants
Growing ground cover plants can help keep weeds out of your garden. As a bonus, they'll also beautify your yard. Choose ground cover plants that will shade the weeds out with their leaves and stems.
Remove weeds then plant the ground cover. Space the plants out according to their final growing dimensions and spread mulch between them to keep weeds down as they get established.
Here are some ground cover plants that you can grow in your garden:
Ajuga
Creeping juniper
Dead nettle
Foamflower
Verbena "Imagination"
Harvest edible weeds
Some weeds are nutritious and you can use them to make tea or add them to salads.
Edible weeds include:
Burdock
Chicory
Dandelion leaves
Lamb's quarters
Purslane
Red clover
Wild violet
Yellow dock
Learn how to differentiate plants and weeds so you don't accidentally harvest poisonous weeds.
Light deprivation
Like other plants, weeds will die if they don't receive enough sunlight. Depriving weeds of light will stop weed seeds in the soil from sprouting and will kill off any low-growing weeds.
Cover weeds with landscape fabric, black plastic, or a mulch to deprive them of sunlight. Next, cut the weeds down then remove the debris before you cover the area with your chosen material or mulch.
When using mulch, don't pile it right next to young plants because their stems might rot.
Mow your lawn
Mowing your lawn regularly helps control weeds that grow among lawn grass. Keep the length to about three inches (seven centimeters) to prevent weeds from setting seed. This ensures that your lawn grass can thrive while the weeds are choked out.
The no-dig method
The no-dig method is easier on your back. With this method, the more you turn over the soil, the more weed seeds will come to the surface of the soil. Don't disturb the soil too much to avoid damaging your crops.
When using the no-dig method, dig down just around the plants instead of digging over the whole bed. The soil and soil fertility structure will benefit from this method, which limits approach and disturbance.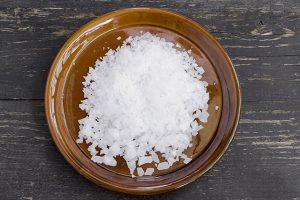 Salt
Salt is an effective weed killer, but it should be used properly because it may have a harmful effect on garden soil.
When using salt as a weed killer, apply it directly to the leaves of the weeds you want to get rid of. Don't soak the soil, especially in places with other plants.
Control the use of salt by dissolving one part salt in three parts water, then add several drops of dishwashing liquid. Store the mixture in a spray bottle and carefully spray the leaves of the weeds with the salt solution.
Soap
Soap is oily and it will break down the surface of weeds with waxy or hairy leaves.
Sunlight
While plants need sunlight to grow, trapping the sun's heat at the soil surface with clear plastic can also kill weeds. It's best to try this method in warm climates and during the summer months.
Prepare the site by removing all plant top growth and clearing away protruding rocks, clumps of soil, or anything that will stop the plastic from coming in contact with the soil.
After you place the plastic on the ground, dig narrow trenches to secure the plastic's edges and to stop it from blowing away. Water the whole area until the soil is wet to a depth of 12 inches.
Place one edge of the plastic in one trench and fill it in with soil then lay the sheet of plastic over the whole area. Place the other side edge into the trench on the other side before also filling it with soil.
Leave the plastic in place for four to six weeks until the heat of the sun kills weed roots up to between 12 and 18 inches deep.
Vinegar and salt
Weed with a long taproot like dandelion can be removed by using vinegar. This method also works on weeds that grow on your driveway.
Make sure you only pour the vinegar near the base of the weeds because it might harm the roots of plants growing nearby.
Make the vinegar-salt mixture by adding dishwashing liquid. Combine one gallon of vinegar with one cup of salt and one tablespoon of dishwashing liquid. Pour the mixture into a spray bottle and spray the weeds directly.
Weed burner
A weed burner is a lance attached to a gas propane tank. Using this method, you pass the flame over the weed plant, burning the plant tissue until it dies. But like other methods, a weed burner doesn't kill the roots. For best results, flame the weeds several times.
Keep your home garden weed-free by using natural methods like the no-dig method or by growing ground cover plants.
Sources include: